In a dramatic turn of events at the Marina Bay Street Circuit, the Singapore Grand Prix qualifying session saw Ferrari and Mercedes clinch the coveted front-row spots on the starting grid, leaving Max Verstappen and Sergio Perez of Red Bull Racing out of the top 10.
The Shocking Qualifying Results
Carlos Sainz claimed pole position, signaling a strong start for Ferrari in Singapore. He will lead the pack into the race, with George Russell and Charles Leclerc of Mercedes securing second and third positions, respectively. The top five is rounded out by Lando Norris and Lewis Hamilton, while Kevin Magnussen of Haas delivered an exceptional performance to clinch the sixth spot on the grid.
Further down the grid, Fernando Alonso secured seventh place, followed by Esteban Ocon, Nico Hulkenberg, and Liam Lawson in positions eight through ten, respectively. However, the real drama unfolded during Q2.
Verstappen and Perez's Nightmare in Q2
The Singapore Grand Prix qualifying session took an unexpected twist during Q2 when both Max Verstappen and Sergio Perez failed to make it into the final shootout for pole position. This shocking turn of events left fans and experts alike in disbelief.
The drama began with a jaw-dropping lap by Yuki Tsunoda in Q1, propelling him to the top of the timesheets. However, a massive collision involving Lance Stroll in the final corner brought out the red flag, overshadowing the rest of the session. Thankfully, Stroll emerged unscathed from the harrowing crash, but the incident had a ripple effect on the grid.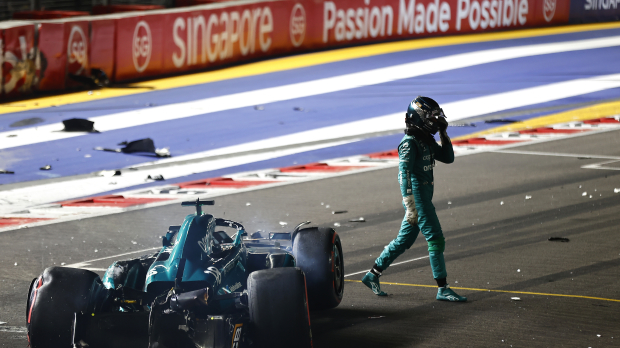 Impeding Controversy
Q1 also saw controversy when Verstappen was accused of impeding in the pit-lane. He remained stationary at the end of the pit straight for an extended period, ignoring a green light. Multiple cars faced similar accusations of impeding, this time between Turns 16 to 19, resulting in a chaotic and frustrating session.
Adding to the chaos, Logan Sargeant faced an investigation for impeding Stroll just before the Aston Martin driver's crash. The subsequent red flag halted proceedings as debris was cleared and barriers were repaired, causing a nearly half-hour delay before Q2 could commence.
Qualifying Results
Here are the final qualifying results for the 2023 Singapore Grand Prix:
Carlos Sainz [Ferrari] – 1:30.984s
George Russell [Mercedes] – +0.072s
Charles Leclerc [Ferrari] – +0.079s
Lando Norris [McLaren] – +0.286s
Lewis Hamilton [Mercedes] – +0.501s
Kevin Magnussen [Haas] – +0.591s
Fernando Alonso [Aston Martin] – +0.631s
Esteban Ocon [Alpine] – +0.689s
Nico Hulkenberg [Haas] – +0.824s
Liam Lawson [AlphaTauri] – +1.284s
ELIMINATED IN Q2:
11. Max Verstappen [Red Bull]
12. Pierre Gasly [Alpine]
13. Sergio Perez [Red Bull]
14. Alex Albon [Williams]
15. Yuki Tsunoda [AlphaTauri]
ELIMINATED IN Q1:
16. Valtteri Bottas [Alfa Romeo]
17. Oscar Piastri [McLaren]
18. Logan Sargeant [Williams]
19. Zhou Guanyu [Alfa Romeo]
20. Lance Stroll [Aston Martin]