Virgin Galactic has completed it first commercial flight into space. Dubbed the Galactic 01, it carried a crew of six on its nearly 90-minute journey to the edge of space.
The mission was purchased for the Italian Air Force and the Italian National Research Council. The internet has gone wild following the Virgin Galactic launch: which comes less than a week after the Titian submersible tragedy.
Welcome back to Earth, #Galactic01! Our pilots, crew and spaceship have landed smoothly at @Spaceport_NM. pic.twitter.com/f8YQowQN2x

— Virgin Galactic (@virgingalactic) June 29, 2023
Mission of Galactic 01.
The crew included three member from Italy: an aerospace engineer from the National Research Council of Italy, and two Italian air force colonels. They were accompanied by a Virgin Galactic instructor and the spaceplane's two pilots.
The focus of the Galactic 01 was to test 13 experiments in zero gravity. The team was tasked with collecting biometric data, measure cognitive performance and record how some liquids and solids mix in micro-gravity conditions.
RELATED: The James Webb Space Telescope will revolutionise astronomy
This commercial flight is Virgin's sixth piloted sub-robital space flight. It is also the first to carry paying customers: a milestone that took the company over a decade longer than expected to achieve.
The company has now launched 25 people to the edge of space, several of them, more than once. Rival company, Blue Origin, owned by Amazon founder Jeff Bazos, has taken 32 people in sex sub-orbital spaceflights.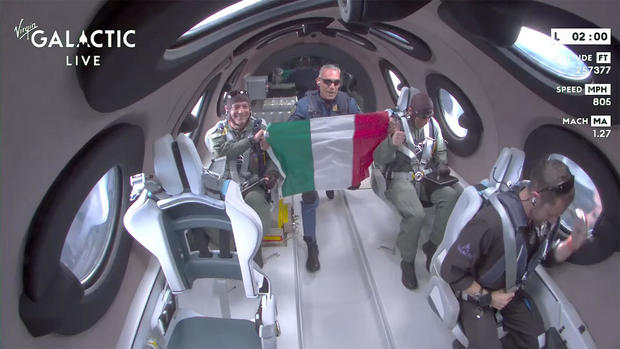 Welcome to Space!
The Galactic 01 landed back on the New Mexico runway at 11:50.
Pantaleone Carlucci, representing Italy's National Research Council described the mission as an "incredible experience, from the takeoff to the landing". "The acceleration, the climb and then suddenly, the microgravity…I had the opportunity to look outside, and the view was amazing. Fantastic! I'm speechless," he said.
Col. Walter Villadei from the Italian Air Force, said the journey was "really beneficial" for world research. He also described it as an "unforgettable experience". "The microgravity went very fast, but we did all the experiments we were supposed to run, and we also had an opportunity to … really enjoy the beauty of the view outside," said Villadei.
Now on to our #Galactic01 crew from the @ItalianAirForce & @CNRsocial_ 🇮🇹!! pic.twitter.com/YPM5szjeJs

— Virgin Galactic (@virgingalactic) June 29, 2023
How Much Does It Cost?
Unlike its rivals, the Galactic 01 flight was not crewed by wealthy people or celebrities.
It was, nevertheless, billed as a scientific trip rather than a fully commercial one. But it is still considered Virgin Galactic's first flight that included third-party passengers: a major milestone.
RELATED: National Space Agency to build 6 new Satellites
The company says it intends to fly again in early August with monthly flights following that. It revealed that it has already booked a backlog of about 800 customers. Charging between $250,000 and $450,000 per seat.