The Safety and Security directorate says it is aware of the planned EFF march scheduled for October 2nd.
The EFF has applied for a peaceful protest permit with conditions, including refraining from intimidating City staff, entering the Ndabeni pound, and excluding taxis from the procession.
The protest is apparently against taxi impoundments, and other issues, including a lack of service delivery.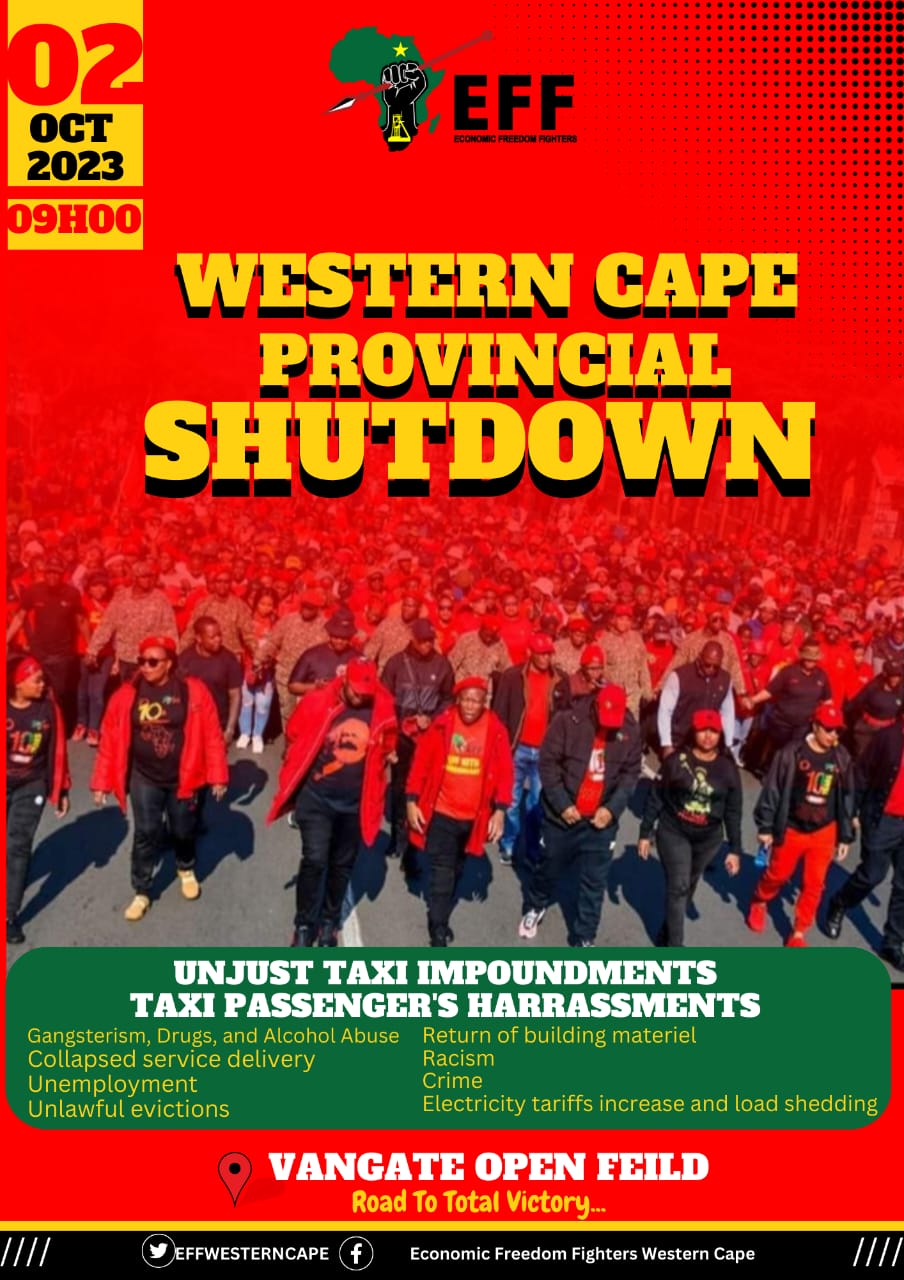 Some political parties and civic organisations will join their march including the South African National Civics Association, limited to 1000 participants.
The City's Safety and Security MMC JP Smith says these proposed "shutdowns" occur periodically but rarely materialise or have significant consequences.
"They mainly cause panic when messages spread through WhatsApp and social media.
We condemn this tactic as it strains City employers already struggling due to load shedding and high fuel costs.
The City has an operational plan for the day in case any protest becomes violent or disrupts traffic."
The City's operational plan includes provisions for addressing public disorder and violence, using technologies such as drones and CCTV for effective response.
Smith says they will not hesitate to pursue criminal and civil legal action against organisers or political parties responsible for gatherings or protests resulting in violence or damage to public or private property.
Similar to the actions currently taken by the City in response to the violent protests initiated by the EFF and NCC.
Yesterday, the Minibus Taxi Task Team successfully concluded negotiations and will now proceed with implementing the agreement to ensure uninterrupted transport operations.
The City has commended SANTACO for not heeding the call for a stay-away and their confirmation to stay operational on the day.
SANTACO has distanced itself from the planned protest, saying taxis will be running as normal on Monday.
Meanwhile, the Western Cape MEC of Police Oversight and Community Safety, Reagen Allen has also said lawlessness will not be tolerated during the EFF's planned march on Monday.
"South Africa's Constitution makes provision for protest, but no person has the right to infringe on the rights of others whilst protesting through violence, intimidation or the destruction of property. I have been assured by the SAPS and law enforcement agencies that any attempts to cause anarchy will be met with the full might of the law."
The Western Cape Goverment will be working closely with SAPS and law enforcement to ensure that businesses can open, and that no-one is prevented from going to work.
"Fermenting disruptions to people's daily activities is counterproductive to building our economy and creating a successful society for all of us. I urge protestors to demonstrate compassion for their fellow citizens and marching in a peaceful and orderly manner."