Western Cape policing authorities have released the province-specific crime statistics for the second quarter, and an overall increase in contact crimes was recorded.
While a slight drop in murder statistics were recorded nationally, the Western Cape's statistics – between July and September this year, compared to the same period last year – show an almost 11% increase in murder cases, and an almost 20% increase in attempted murder cases. A drop was, however, recorded in all sexual-related offences.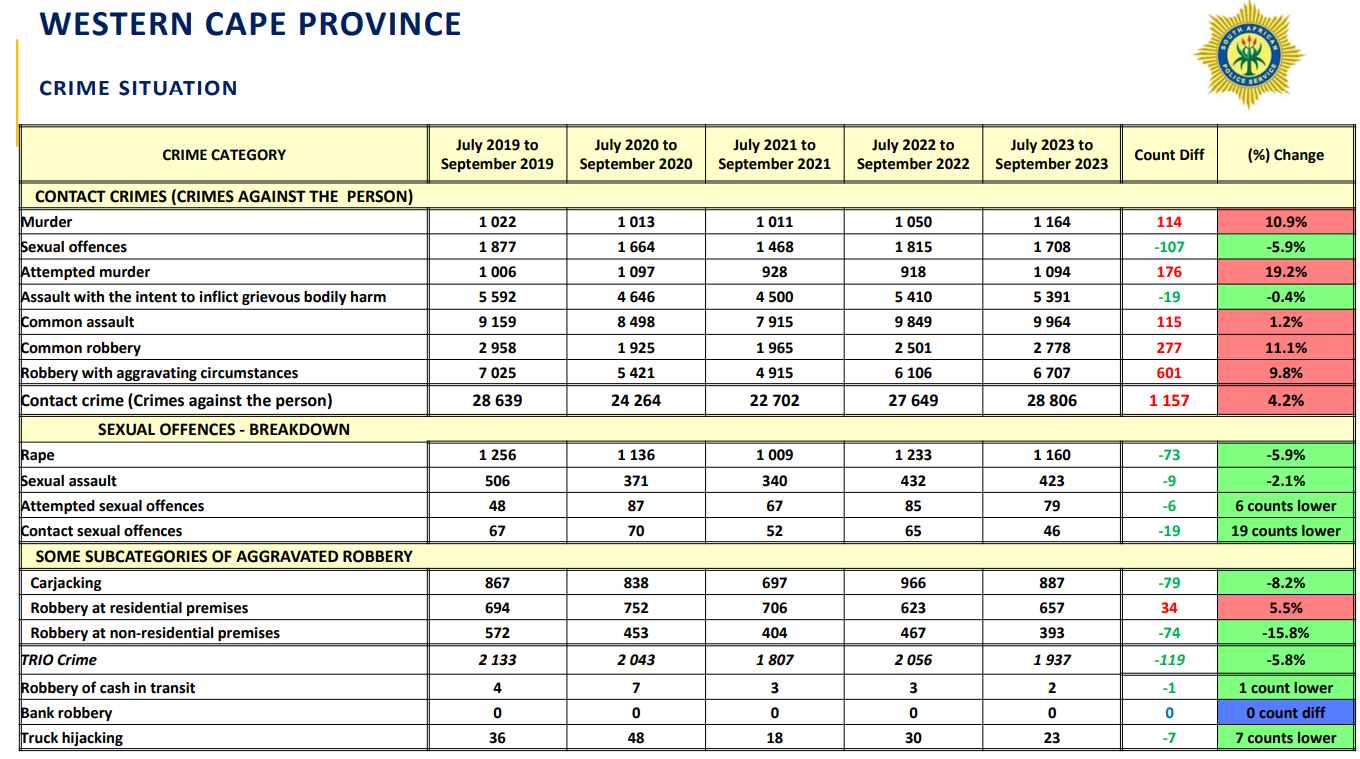 At the same time, there was upsurge in the attempted murder of woman and children. A 31% and 25% increase was recorded for women and children, respectively. The stats also revealed that women between 36 and 45 are 29.9% percent more likely to be murdered (compared to woman of other ages), while the likelihood on the same matter for children between 15 and 17 stand at 69%.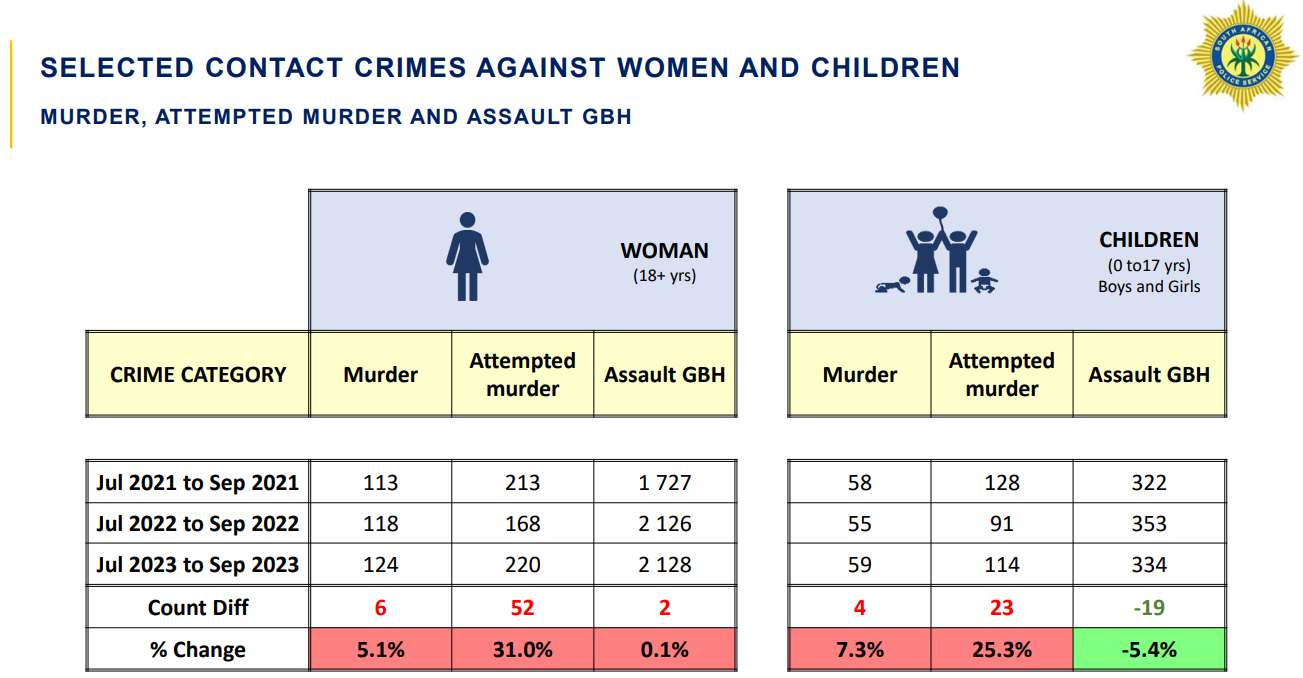 The stats further ruled that the crux of all the bloodshed in the province are arguments and gang activity. Between July and September, 250 murders were the result of an argument and 223 cases were gang-related. SAPS also attributed these two factors to 45% of attempted murder and 54% of assault cases.
National Second Quarter Crime Statistics
Police Minister, Bheki Cele, unpacked the national crime stats on Friday, 17 November 2023. A major takeaway from the national stats was that Delft was dubbed the murder capital of the country, recording 80 murder cases during the second quarter. Cele says despite the country's 0.8% drop in murder cases this quarter, nearly 7000 people have still lost their lives.
"We can't take comfort of the reduction; we can't say we have arrived. These figures are too high. Out of the people killed during this reporting period, 881 were women and 293 were children."
There was also a drop in the number of cases linked to sexual offences. 74 fewer rape cases were reported and 48 fewer sexual assault cases were reported. Overall, a 36% decrease in sexual-related offences. Cele says police have continued successes in bringing gender-based violence and femicide perpetrators to book, and recently identified and apprehended 27 online sexual predators, targeting children, in the country.
ALSO READ: Cops cracking down on online child-porn predators
"It is clear, attacks and violence meted on women, children, the elderly and the most vulnerable in this country, remains shameful. The scourge of violence against women and children in South Africa, must be confronted equally by law enforcement, the whole of government and the whole of society, head on."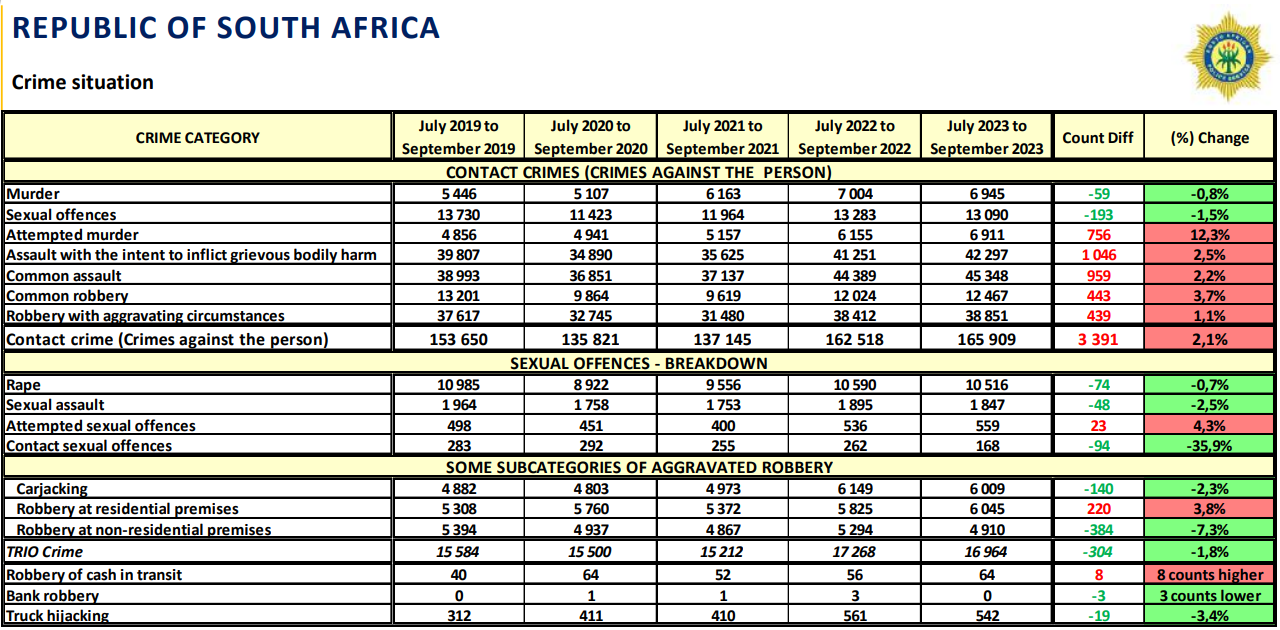 Call to Action
The South African Policing Union's Tumelo Mogodiseng says all stakeholders in communities across South Africa should join hands in the fight against crime.
"SAPU would like to call upon all stakeholders including police management, religious, business traditional leaders with general public to join hands with the police in the fight against crime. It will add no value in the primary task of eradicating crime in our society to blame each other."